3 Free for All MLSListings Subscribers
Get People Talking with Bay Area Data via Aculist Market Trend Reports – Every Month
Offering over 20 branded market data reports for free each month, Aculist is partnering with MLSListings agents to provide you professional market information, with branding, your photo and more. Emailed to you in minutes, Aculist's popular single-page PDF reports are great for open houses, displays, farming, listing presentations and so much more!
Be the Trusted Source of Data for Your Clients
All MLSListings subscribers can request 3 Free reports each month. For help please email support@aculist.com or call 408-642-6970. Visit our Market Trend Reports page to see samples of the reports currently available to you!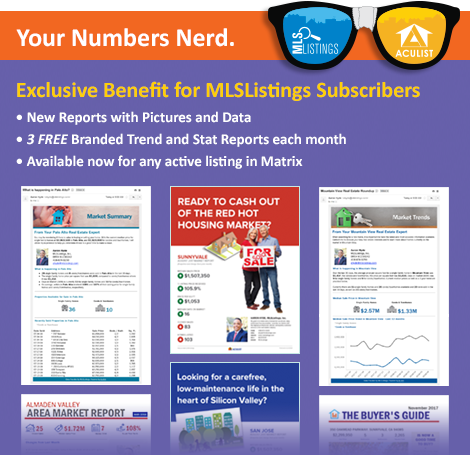 3 Free – How Does This Work?… Select from city, MLS area, zip code, elementary and high school district information with reports that are customized to your needs, including your branding —delivered right to your inbox within minutes.
Step 1: Login to Matrix
Step 2: Select any active listing
Step 3: Click on the Aculist link under the property map
Step 4: Select the Email Ready, Marketing, Premium or Classic Report that you would like emailed to you
Step 5: Click on the "Email Me Free Reports" button! You will receive one email for each report that you requested in a few minutes.
Non-MLSListings Agents and Brokers:
If you are not an MLSListings Subscriber but you would like to have Aculist Market Data Reports, please fill out the form below and we will work with your MLS to provide you this resource. If you have any questions about the data, reports or would like to talk about why you do not receive free Aculist market reports, please contact support@aculist.com.
[pardot-form id="3587″ title="Inman Campaign"]