The Buyer's Guide Property Report
Perfect for your listing, this report provides property and market information, establishing you as an area expert.
You got the listing and are ready for your first open house. Do not forget to request your free copy of the Buyer's Guide to provide for those viewing the property, engaging them with fresh market data and a modern look and feel. We have sent you a complimentary copy of The Buyer's Guide for your new listing which will arrive within 24 hours after you list the property.
For help requesting your free copy of The Buyer's Guide, or if you have any questions, please email support@aculist.com or call 408-642-6970.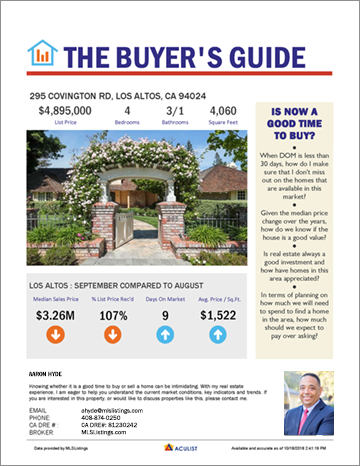 What Is Aculist?… Aculist brings you customized business analytics solutions in comprehensive, presentation-ready market reports. Aculist is a software platform that converts raw MLS data into valuable business and market insights via market trend reports, an interactive tool and dynamic web displays for websites.
Your Numbers Nerd… Your Numbers Nerd is the data person on your team. You've found your buyer or earned that listing and you are ready to get to work! You call your stager, photographer, landscaper… you have a team. Aculist is part of that team, helping you with you with your data needs, saving you time and keeping you armed with all the stats your clients want to know.
What Other Reports Do You Have?… In addition to The Buyer's Guide, you may choose from more than 20 personalized reports to use in your marketing and sales efforts. You can select from city, MLS area, zip code, elementary and high school district information with reports that are customized to your needs, including your branding —delivered right to your inbox within minutes. To see a sample of the different reports available to you, we have a gallery of market data reports that are currently available. For more information about your 3 Free MLSListings benefit and how to request your market data reports today, please visit our 3 Free page.