3 Free for All MLSListings Subscribers
Benefit from Aculist Market Trend Reports Every Month
To sign up for this subscription option, click on the Aculist link on the Agent Full screen in Matrix. Then go to the subscription option and click on "Learn More".
For help signingxx up for this subscription, email support@aculist.com or call 408-642-6970.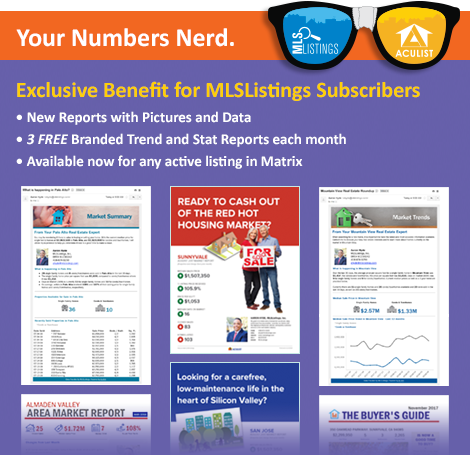 Aculist Market Trend & Analysis Reports give you a real estate edge. Current data coupled with trend and Key Performance Indicators (KPIs) in a powerful yet simple report, establishes you to be the market expert. All MLSListing subscribers will get 3 Free branded and customized reports that will wow your clients and prospects. Login to Matrix and select any active listing to select from 20 available reports - free for you today!
What Is Aculist?… Aculist brings you customized business analytics solutions in comprehensive, presentation-ready market reports. Aculist is a software platform that converts raw MLS data into valuable business and market insights via market trend reports, an interactive tool and dynamic web displays for websites.
Your Numbers Nerd… Your Numbers Nerd is the data person on your team. You've found your buyer or earned that listing and you are ready to get to work! You call your stager, photographer, landscaper… you have a team. Aculist is part of that team, helping you with you with your data needs, saving you time and keeping you armed with all the stats your clients want to know.
3 Free – How Does This Work?… Select from city, MLS area, zip code, elementary and high school district information with reports that are customized to your needs, including your branding —delivered right to your inbox within minutes.
Step 1: Login to Matrix
Step 2: Select any active listing
Step 3: Click on the Aculist link under the property map
Step 4: Select the standard or premium report that you would like emailed to you
Step 5: Click on the "Send Me Free Reports" button! You will receive one email for each report that you requested in a few minutes.